State Government Agency leverages TransformaTech expertise and IBM WebSphere Message Broker as they "Modernize" and migrate from legacy Mainframe tax system to SAP
Key Challenges:
5 year, phased implementation of SAP
Soon to be unsupported version of WMB
Need to support legacy Mainframe system concurrently with new SAP System
100's of interfaces with internal systems and external partners
Complex data formats and transformations
Limit customization of SAP
Solution Overview:
Leverage existing WMB and MQ infrastructure
Engage TransformaTech consultants to design, implement, and test new SAP based interfaces
Leverage MonitorIT and TransformaTech Monitor to proactively and reliably monitoring WMB and MQ
Knowledge transfer to client resources
Key Results and Benefits:
Minimized SAP customizations by leveraging WMB to handle complex transformations to SAP required formats
All interfaces went through WMB for monitoring, auditing, and controls of critical tax data
Ensured quality, timelines, and budget goals were met by leveraging TransformaTech expertise
WMB & MQ environments upgraded to recommended, support levels running on AIX
Background
The State Government Agency has been supporting their legacy IMS and CICS based legacy tax system on the mainframe. These systems have been in place for over 30 years. In 2012 a multi-year project was approved to "Modernize" the company's core tax system. As part of this "Modernization", the company embarked on an enormous challenge to migrate from their legacy tax system and interfaces to an SAP based tax system. This was not only a large technical challenge, but also huge business challenge as these systems were the core of their business supporting millions of customers (both corporate and personal taxes). This includes hundreds of different tax types and forms that needed to be both manually and electronically processed from millions of customers and from many other sources (i.e. banks and other agencies).
As the company embarked on this significant technical and business challenge, the one advantage they had was IBM's WebSphere Message Broker that supported 100's of integrations with its existing systems. They successfully leveraged this platform with many integration challenges that showed great performance and ROI. They also had good internal knowledge on the product as well as proven success working with TransformaTech on large, complex, critical integrations in the past.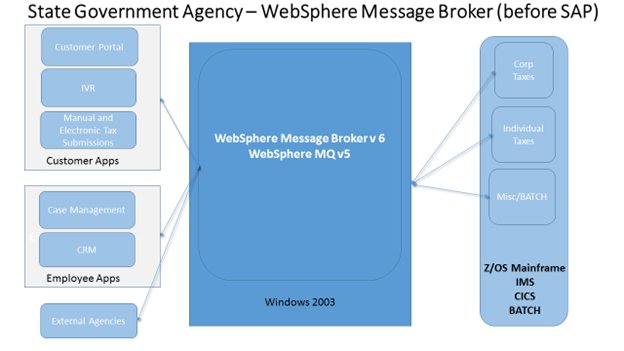 Solution
The company engaged TransformaTech and made the strategic decision to have all new SAP interfaces leverage WebSphere Message Broker to both perform complex transformations as well as be a central hub for data going into and out of SAP.
TransformaTech assisted the company with the following as part of their critical implementation: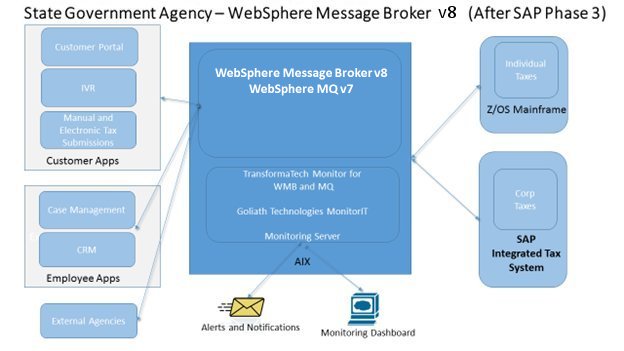 Outcome
Leveraging TransformaTech's expertise and the reliability and performance of WebSphere Message Broker, the company has successfully implemented the first three phases of their project. This implementation is realizing the expected business and technical benefits of their "Modernization" effort. Specific to TransformaTech and WebSphere Message Broker, the company has seen the following benefits:
Complex transformation logic in WMB allowed to leverage standard SAP modules reducing implementation time, reducing risk, and increasing manageability of new SAP system.
Migration to new platform (AIX) and WMB version allowed processing of large, complex batch interfaces supporting millions of transactions.
Centralized WebSphere Message Broker platform provides better auditing, controls, and monitoring of critical tax data moving through company systems.
WebSphere Message Broker provides not only the complex transformation but allows handles the variety of protocols required by company (i.e. MQ, FTPS, FTP, HTTP, HTTPS, etc).
Knowledge transfer and training provides company with new capabilities and ability to support existing and new interfaces.
Additional Information
>>Read more about our Systems Integration Services (IBM Integration Bus – IIB, WebSphere Message Broker – WMB, MQ)
>>Read more about IIB/MQ Monitoring and Support Outsourcing
>>Read more about TransformaTech Monitor
>>Read more about Monitoring as a Service (MaaS)
>>Read more about TransformaTech's history working with IIB
Save
Save
Save
Save