TransformaTech, Inc. is an IBM Business Partner and an Authorized IBM software Reseller.  Our goal is to help our clients by using leading technology, methodologies, and best practices to improve IT and Business Performance through our specialized expertise with IBM Integration Bus, WebSphere MQ, DataPower, Bluemix, and the complete IBM Hybrid Cloud Integration portfolio.
We work with our clients on implementing complete end-to-end solutions with leading integration technology and standards. Our certified consultants are experts at making your business more efficient by integrating your systems and applications (Mainframe, Web, ERP, CRM, Accounting, etc).
We have a specialized practice and expertise with WebSphere Message Broker (WMB), IBM Integration Bus (IIB), and WebSphere MQ (MQ). We have worked with and have expertise in ALL versions of IBM Integration Bus (NEON, MQI 1.0, MQSI 2.0, WMQI 2.1, WBIMB 5.0, WMB 6, 7, 8, and IIB 9, 10).  Our Services include, but are not limited to:
IBM Integration Bus Services
IBM Integration Bus Consulting / WebSphere Message Broker Consulting
WMB to IIB upgrades
IIB Architecture and Design
IIB Installation and Configuration
IIB Administration
IIB Development
IIB Health Checks, Performance Tuning, and Troubleshooting
Our History with IBM Integration Bus: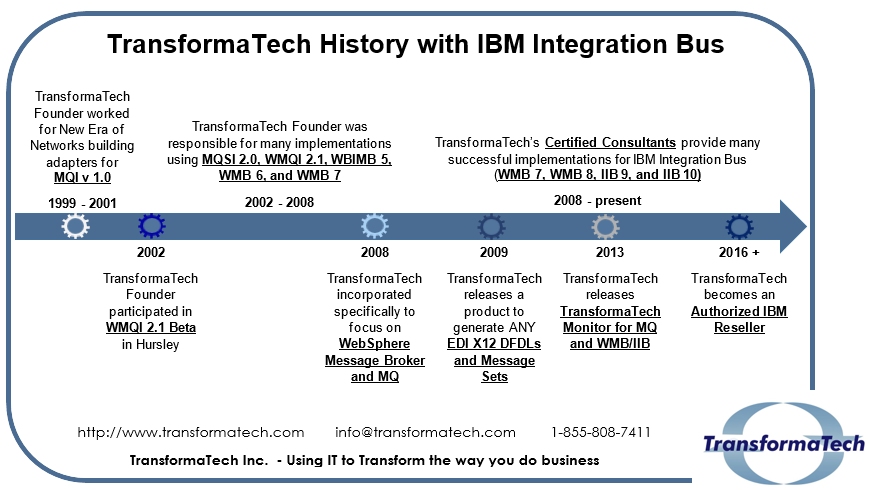 >>Learn more about our history with IBM Integration Bus (IIB)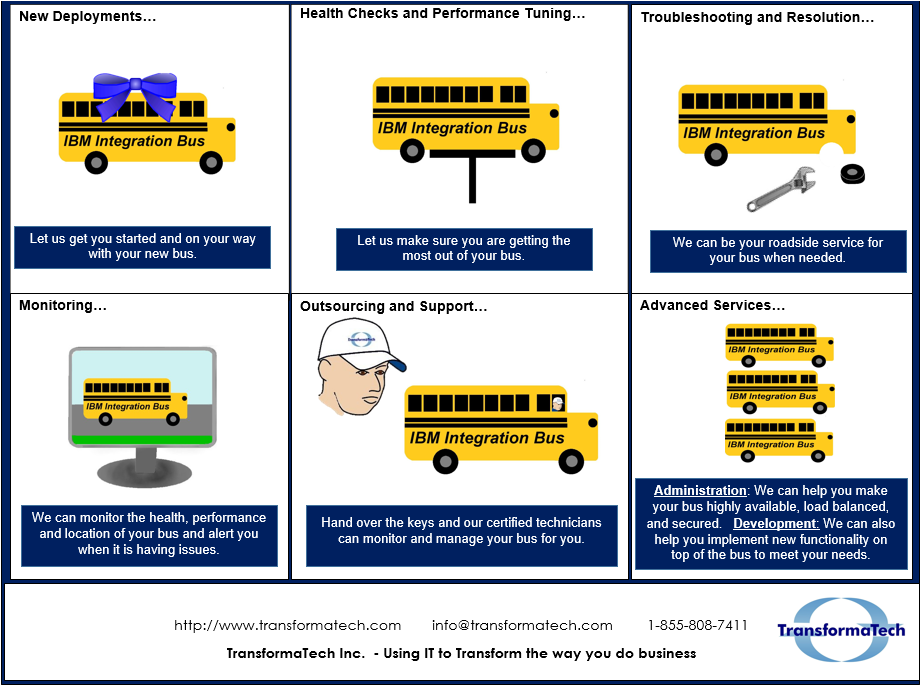 WebSphere MQ Services
WebSphere MQ Consulting
WebSphere MQ Migrations
WebSphere MQ Upgrades
WebSphere MQ Architecture and Design
WebSphere MQ Installation and Configuration
WebSphere MQ Administration
WebSphere MQ Development
WebSphere MQ Health Checks, Performance Tuning, and Troubleshooting
DataPower Services
DataPower Consulting
DataPower Configuration
DataPower Administration
DataPower Security
DataPower Development
WebSphere Transformation Extender Services
WTX Consulting
WTX Installation and Configuration
WTX Mapping and Development
We have IBM Certified WMQ and IIB Consultants that can help you with your next implementation.   We can also help you completely outsource your IIB and MQ administration, support, and development as part of our managed service offerings.
>> Learn more about our 24/7 monitoring and support services
Save
Save
Save
Save
Save
Save